Well, friends, we are definitely better planners than we are bloggers! This amazing photo set with Ed and Aileen Photography, Atmosphere Events Group, Arcana Vintage Rentals and Ink Love and Paper was previously published on our blog…until we accidentally deleted it because, well, we just aren't great web designers.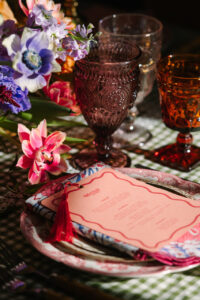 That post, from winter, shared all the sources of 2023 wedding and design trend information that we incorporated into this late 2022 photo shoot. While time to rewrite everything is a little more limited in the midst of busy season, we had to get this back out there! The images are too fun to keep to ourselves, and we had a blast putting this all together.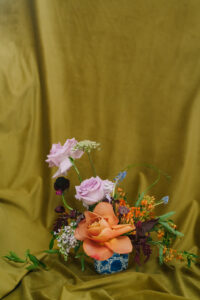 Without further ado, please enjoy some of our favorite 2023 (and beyond) wedding trends, including:
1. Maximalism, including pattern-on-pattern and color-on-color. Looks that combine traditional, Grandmillennial elements with moody vibes are really doing it for us. 
2. A return to color over white and greenery. Color blocking is king, as are transitions in palette throughout the event. 
3. Personalized, intimate details for guests, to achieve a curated dinner party feel. Gone are the days of mass-produced favors, here are the days of handwritten notes and thoughtful tablescapes.
4. Speaking of intimate details, events in private homes are still going strong! The pandemic saw an uptick in at-home events, particularly those outdoors. While we couldn't photograph outdoors in late fall, we aimed to capture the intimate feel of an event at home.
5. Traditional kids and keepsake portraits. Bonnets! All the buttons! High socks and clip-cloppy little shoes! We embellished with Feltman Brothers attire and a Vermont Teddy Bear. 
6.  Bold paper goods. We can't get over scalloped details, painterly scripts and color play from our favorite designers.
Every wedding is as unique as the couple it celebrates, and these trends leave so much room for couples to make everything their own. More than anything, we are loving the creativity and personal inspiration that our couples are bringing to the table for 2023, 2024 and even 2025! We have just opened our books for full and partial planning for the first half of 2025 and it's so much fun to anticipate what the future has in store. Happy planning, everyone!